Global Shipping countries
and guidelines on purchase limits
Products are shipped out on the day you place your order with DHL Express,
arriving directly to your door

as fast as in 3 business days.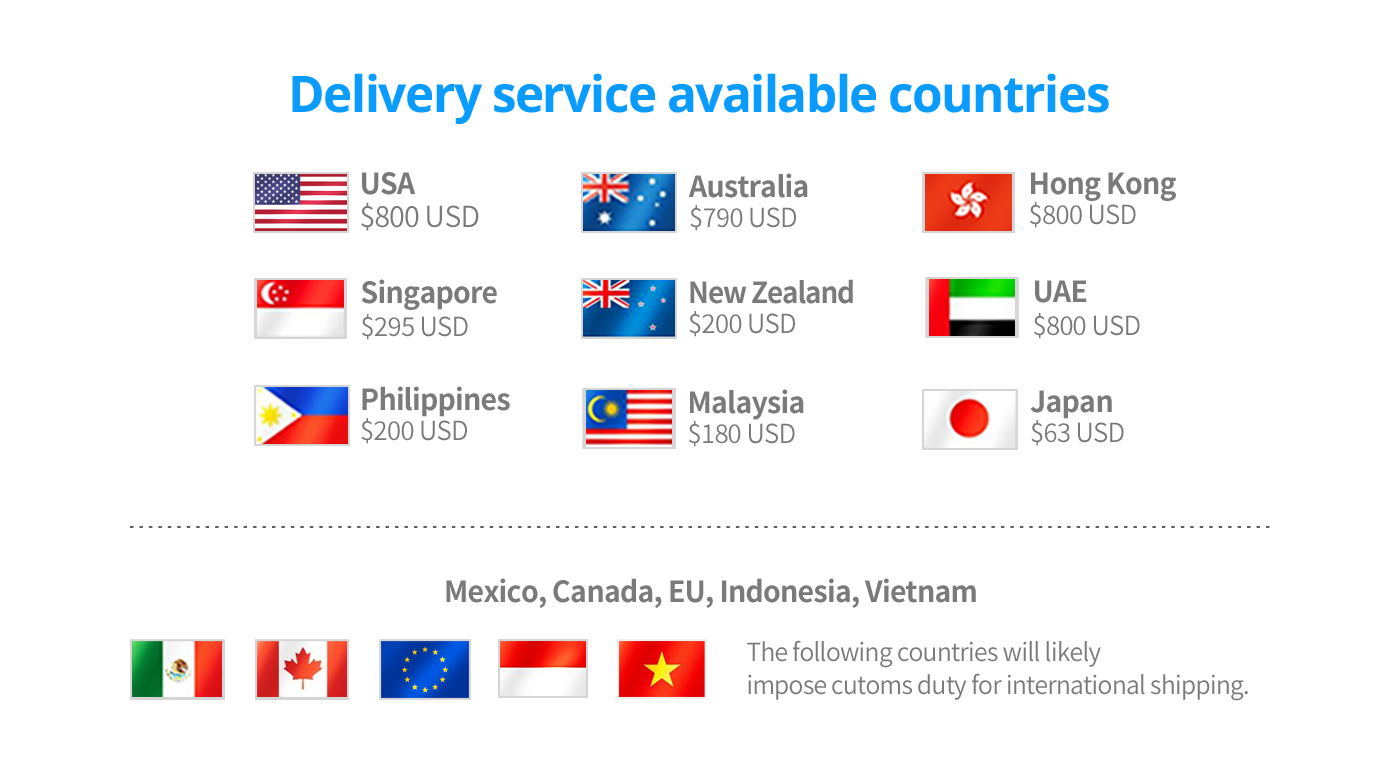 The following

purchase limits are for your guidance only

and

CANNOT

fully guarantee import tax-free during customs as official guidelines per country are unavailable.

All orders are shipped on DDU(Delivery duty unpaid) basis

and depending on each country's import policy, you may be required to pay customs duty and/or present additional documents.
LINGTEA Shipping Guidelines
How can I get the product delivered?
We are shipping the product safely to customers all over the world using our shipping partners DHL.
When will the ordered product be shipped?
Products that have been paid by 8am on weekdays in Korea time will be shipped the same day.

However, since there are many orders recently, it may take 1~3 more days to ship the product depending on the situation.
Can I pick up the product myself?
For security and other additional reasons, we do not provide direct product pick-up or locker service.

Please note that it is also not possible to change the shipping address after shipment.
Am I able to track my order?
Yes. When we dispatch your order for delivery you will receive a unique tracking number by email and text message.

Once in receipt of this tracking number you can check the current status of your shipment.
There is a problem with a shipment I received, what do I do?
If your shipment arrived with certain quantity missing or different type of products, Please leave us an inquiry via email (global@lingerwater.com) for solution within 7 days upon receipt.
If you would like to exchange one item for another, you must first return the original item and then place a new order.You will be refunded for the original item in accordance with our usual returns policy.
You have up to 7 days to request an item return. For full details on the returns process, see our Returns page.
In what packaging will my goods be delivered?
All products are securely packed and shipped in boxes to prevent damage during shipment.
Do I have to pay duty and import charges?
All orders shipped from the LINGTEA are shipped on a DDU (delivery duty unpaid) basis and all prices on the website are not include the relevant import taxes and duties.If the value of an individual item or the total order exceeds the customs standards of the country, this may delay your delivery time as goods held at customs will be your responsibility to pay the necessary charges for local authorities to release the goods.
Why are shipping restrictions applied to some regions?
Due to international trading agreements and regulations, LINGTEA must adhere to some specific shipping restrictions.Currently, there is a limitation on the delivery due to COVID-19, and we will expand the delivery area according to the relevant instructions.
Can deliveries be contact free?
Yes. contact-free delivery is available to request from your courier upon delivery.